Samuel Conley
(born May 8th 1972) is the son of
Jack E. Conley
(1942 - 2001), and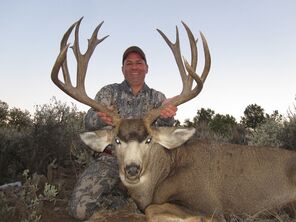 the 7th generation leader of the
Pro Hunters of America
(2001 - 2008). Samuel gave up his rights after only 7 years because he didn't want them. He is the father of
Erick Conley
(1985 - 2012). 
Samuel, born in 1972, is a middle aged fair man. Though he is a bit weird. Samuel had a son in 1985, Erick Conley. Samuel took over as leader of the PHA in 2001, after Jack E. Conley died. Samuel served from 2001, until 2008, when he gave them up because he just didn't want them anymore. Samuel is still alive, but just stays in his home. He has Bi-polar. He is not a Pro Hunter but can get some big ones.
Ad blocker interference detected!
Wikia is a free-to-use site that makes money from advertising. We have a modified experience for viewers using ad blockers

Wikia is not accessible if you've made further modifications. Remove the custom ad blocker rule(s) and the page will load as expected.