Erick Conley
(September 7th 1985 - December 22nd 2012) was the main Role-Playing character of SupremeLegacy. He is leader of
Pro Hunters of America
. He died of unknown reasons at the age of 27. He is the son of
Samuel Conley
(born 1971) and father of
Jack R. Conley
(born 2000).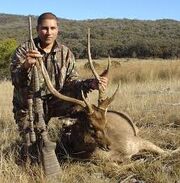 Personality
Edit
Erick's sorta distant from other hunters, he rarely talks. Mostly to one's he trusts. He is never wild, he knows when, and when not to shoot while hunting, he is very very mature... Although he is 27 years old. He stays close to his team, only talking to them every once in a while.
These ar the weapons he uses, in order of choice of use.
None yet.
None yet.

Equipment
Edit
Some Home-Made Beef Jerky
Home-Made Orange Juice
Water
Camping Items
Edit
Ad blocker interference detected!
Wikia is a free-to-use site that makes money from advertising. We have a modified experience for viewers using ad blockers

Wikia is not accessible if you've made further modifications. Remove the custom ad blocker rule(s) and the page will load as expected.